My friend, Alice Briggs, assists people in working through emotional and spiritual healing. The Splankna techniques mimic some of what's done with EMDR so it's also very helpful with unlocking trauma.
Click HERE to visit her site.
When you contact her, give her the coupon code "DelMusic" for 1/3 off your first session!
Click HERE to contact Alice for an appointment.
Here is a little information about Alice that I borrowed from the main page of her website.
Everyone experiences troubles, hard times, disappointments, failures, and set backs. What you do with those issues ultimately will determine how emotionally and spiritually healthy you are in the future. When we experience trauma of all sorts, we tend to store those negative emotions in our physical being. We believe lies about ourselves and those around us. These emotions and lies tend to "trigger" us and we react in ways that are not logical or desirable. Sometimes these same issues can hinder us from moving forward as we are subconsciously sabotaging our own progress towards the things we most desire.
Most of the time, we are able to work through these types of issues on our own. But, sometimes, things get "stuck" and we need a little help to break through into our next level of freedom and peace. Working together, we will be able to quickly release emotional and spiritual baggage that may be hindering your progress.
Grounded in Christian principles, I work as a facilitator to not only guide you to release painful emotions, lies, and heartache that are triggering unwanted symptoms, but to rediscover who God is and what He has to say to and about you. Trained in both Splankna and Sozo techniques for inner and energy healing, I believe the Holy Spirit is our healer and will guide you on a journey tow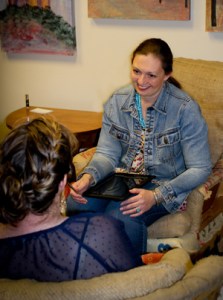 ards complete emotional and spiritual healing.